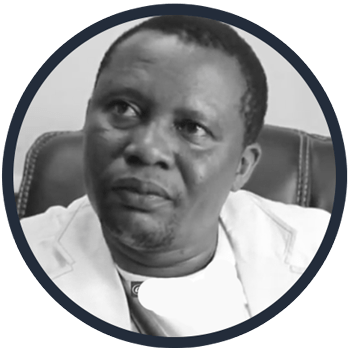 Leonard Kushoka
Mr Leonard Gabriel Kushoka (49) is the founder and leader of Kuja na Kushoka Tools Manufacturing Group, a community-based organization registered and legally operating in Tabora region. KKTMG started operating in Tabora in 2000 but was legally registered in 2013. With 19 years of experience, the group is a leading actor in environmental conservation working in cooperation with local and central government, nonprofits, corporations and development partners. The main products made by the group are bio briquetting machines, tobacco leaf driers and efficient cooking stoves. As a child Leonard was always curious with mechanical stuff today he is an innovative and skilled developer of technical solutions as well as a skilful marker. In the course of his activities the community recognized his contribution as a result he has archived awards, in 2018 Mr Kushoka participated in renewable energy innovation competition organized by Shell Tanzania and won 300 Million Tanzanian Shillings. Also in 2012 he won an award from SIDO (Ubunifu bora), In 2009 he was among 11 people who were pointed out as the leading male role models in Tanzania, an initiative named champion project under United Nations.
After his ordinary level education, Mr. Leonard joined the vocational training centre where he did machine fabrication. During his studies, he did practical training at Kilimanjaro Machine Tools, where he acquired practical machine fabrication skills. Mr Leonard always saw an opportunity first and things that motivated him most are the challenges around him and his creativity, example there were farmers cultivating sunflower their biggest challenge was extracting oil from the plants, this motivated him to create machines to solve the problem. Leonard had also observed that in large cities like Dar es Salaam and Arusha, there were suppliers of improved cooking stoves. However, there were none in Tabora. In 2000, he organized a group of 9 youth and started working with them to make improved stoves, which they sold to market traders who retailed them in Tabora. Having come from Tabora, Leonard knew that tobacco drying consumed a lot of firewood. Leonard came up with the idea of making special stoves that used briquettes to dry tobacco. He also tried to develop a machine for making the briquettes, since there was no one supplying them.
One of Leonard's strength is high convincing power, he visited some farmers to convince them to buy the driers, however, none of the farmers was willing to invest in the drier. Leonard decided to approach the representative of the main tobacco buying company. He introduced the drier and after it was tested, the company agreed to lend them to farmers and recover the cost from proceeds of tobacco sales. To be able to deal with formal tobacco buyers, Leonard had to register a business name with BRELA and acquire a business license and open a bank account. This was a major breakthrough for Leonard and the business was able to grow to employ 9 people. Since then, Leonard and his group focused on making and distributing briquetting machines and institutional stoves. They also produce briquettes and improved cookstoves for home use. Leonard has been working with various stakeholders, including donor-funded projects, prisons and schools to install institutional stoves and supply briquettes, to train groups of youth and women in production and use of briquettes. Such partners have included AMREF Tanzania and prisons.
Until 2018 Kuja na Kushoka Tools and Manufactures was a cooperate based initiative registered under BRELA, with a management structure starting from Board of Directors, Managing Directors, Operations Director, Finance Director, Marketing Director and a total number of 14 employees and 15 interns, 25 male and 4 female. They also went as far as joining the Business Chamber of Commerce. The management of Kuja na Kushoka Tools Manufacturers are keen in finding out ways to increase their company's efficiency, hence they provide training to staff on how to value their works, moreover, transparency is encouraged only to the top management, staff members are not often involved since the board members make all the important decisions. Furthermore, there are disciplinary measures that are taken in case of any misconducts such as reducing employee's salary per day if they haven't reached the target and if necessary firing employees. However, there are challenges in regards of Kuja na Kushoka Tools Manufactures management, there are no internal policies governing their day to day activities, also financial records are ignored. The major clients of the company are entrepreneurs and small community groups and they develop their communication network networks online (WhatsApp, Facebook, and YouTube) and offline (Physical visits). The business also applies marketing strategies such as Tv & Radio advertisements, interviews and attending exhibitions (Saba Saba).
The main area of operation is located in Tabora region, whereas the operations work environment is good, there is an availability of water and electricity and also technician working tools. Safety tools are also used such as first aid kit, fire extinguisher, and also provision of safety measures training to all employees. However, there is challenge on means of transportation on their day to day operations, whereas they are forced to rent trucks for transportation purposes. Generally,the company operates in all regions in Tanzania, due to the nature of their activities, they supply briquettes making machines in regions where they receive inquires some of these regions are, Dar es Salaam, Mwanza and Tabora. Moreover, Leonard set up the first center at the Ubungo bus terminal and organized a huge launch ceremony with a lot of publicity, which was officiated by the City Director. Kuja na Kushoka is providing stoves to food vendors at and around the bus terminal, who are willing to buy the briquettes to stimulate demand for the briquettes. Kuja na Kushoka is looking forward to expanding on other stations where there are many women providing catering services such as Mwenge, Kariakoo, Kigamboni, CCM Kirumba & Nyamagana.
In the course of this business, Leonard has received support from various stakeholders, In 2018 Mr.kushoka participated in renewable energy innovation competition organized by Shell Tanzania, and won 300 Million Tanzanian Shillings. From this success he acquired one rather machine 25,000,000Tsh, one welding machine2,500,000Tsh, one drilling machine 2,500,000Tsh one air compressor machine 2,300,000Tsh and one van $30 for a vehicle which increased his production capacity. Moreover, he invested in technical, marketing, networking and cooperate social responsibilities. Moreover, the government is working hand in with him, in 2019, he received a letter from the local government in Tabora, informing him that the national torch movement will visit his business. By end of 2017 Kuja na Kushoka tools manufactures had installed production capacity of 50 machines, acquire 20 customers, distribute in 7 districts and hire 14 full-time employees. Following its rapid growth Kuja na Kushoka has managed to distribute 200 stoves at the cost of 2,000,000Tsh to women providing catering services in Tabora, 300 stoves at the cost of 3,000,000Tsh in Dar es salaam Ubungo, and 100 stoves at the cost of 1,000,000Tsh at Feli fish market.

The business has been facing many challenges. One of the challenges is that many people are not committed and hardworking when they are paid a salary. To get results from workers, Kuja na Kushoka mostly uses a performance-based system whereby workers are paid the minimum salary and any addition is based on performance. Each worker is assigned work with agreement on what he or she will be paid upon its completion. The other challenge has been a limited market for the products in Tabora. From 2017, Leonard wanted to expand to Dar es Salaam, the largest market for charcoal. He started looking for a market for his briquette machines. He, however, found that selling directly to individuals or groups was very difficult. He approached Dar es Salaam City Council and sold to them the idea of selling briquetting machines to groups of women and youth to create jobs and address the challenge of the use of charcoal. The City Council agreed to give loans to groups of youth and women to buy the machines. Leonard and his team train these groups on briquette production.
However, the groups could not repay the loans because they could not sell the briquettes produced, claiming that the market was not ready to change to use of briquettes. Leonard decided to establish briquette selling centres in Dar es Salaam, which would buy all briquettes from his machine customers at Tshs 500 per kg and sell at Tshs 600 per kg. Leonard set up the first centre at Ubungo bus terminal and organized a huge launch ceremony with a lot of publicity, which was officiated by the City Director. Kuja na Kushoka is providing stoves to food vendors at and around the bus terminal, who are willing to buy the briquettes to stimulate demand for the briquettes.
Kuja na Kushoka is looking forward to expand on other stations where there are many women providing catering services such as Mwenge, Kariakoo, Kigamboni,CCM Kirumba & Nyamagana. The goal of Kuja na Kushoka is to produce and sell more machines to increase bio briquetting alternative charcoal production. Kuna na Kushoka has offered seminars on usage of bio briquette to women in Mwanza and distributed 30 stoves at a cost of 300,000Tsh and have received an order of 12.5 tons per month which is equivalent to 6,250,000Tsh.Kuja na Kushoka also faces a challenge of capital to expand production. To address this challenge, he asks large customers (e.g. AMREF, City Council of Dar es Salaam, PRISONS) to pay an advance payment, which is used to produce the products. He has also been participating in various competitions to get awards which are invested.
Mr. Leornard envisions other opportunities on waste recycling, currently he is considering to create machines for recycling plastic bags to make diesel and plastic furniture's such as chairs and tables. However his future plans in 2021 he is expecting to have an annual installed production capacity(machines) 300, annual production of 300 machines, annual sales of 2,100,000,000Tsh, annual profit of 525,000,000Tsh, increasing number of employees full time to 22, increasing number of customers to 300, increased number of distributing districts to 25.